There are three main reasons why we love yelp.com.  By we, I mean 80% me Janet and 20% Lorenzo.  I am a huge yelp fan.  The first reason is that my psychic reading & healing practice is listed as a business in yelp.com under Chicago.  Here's the page for my readings on yelp.  The client reviews on that page help many people to learn about my readings!  Also here's the yelp page for our dog boarding business Barneys Home Dog Boarding.  At the moment, nobody loves us yet on yelp for that.  Someday!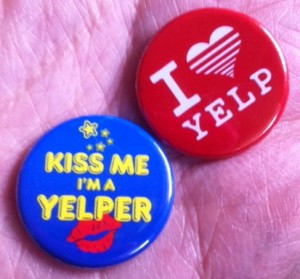 The second reason "we" love yelp.com is that it's a fantastic resource as a consumer.  We have found restaurants, used tire places, cupcake bakeries, a salt cave spa place, a pet supplies place, etc.  I almost always check out yelp when looking for something.  Not only has yelp helped me to find the best businesses, it has encouraged me to get out there and be more experiential and try new things.  Over the last few years I have written over 120 reviews on yelp.  Here's a link to my own personal yelp user (consumer) account.
The third reason "we" love yelp.com is the bookmark feature within yelp.  If you create your own free yelp account, you can create unlimited bookmarks for yourself with notes to yourself about whatever you are bookmarking.  For example, you could bookmark "Nazareth Sweets" in yelp, and remind yourself to go here because it's baklava heaven and that they will give you samples if you ask.  You can make your bookmarks private or public.  I have a very poor memory and my inspiration sometimes comes and goes, so this helps me to remind myself about places I want to go and why.
So that's it.  Confessions of a yelp fan.  🙂