Well our foster beagle's fame is growing and now she is up on petfinder.com, THE location to find an adoptable rescue pet.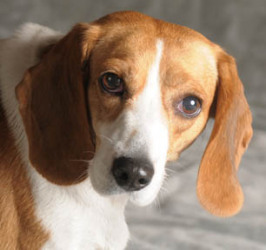 Here she is in her photo shoot with professional pet photographer Sheri Berliner.  Please help us spread the word about this mellow dog.  She could fit right into a multiple dog household, as she is submissive and likes other dogs, cats, adults, strangers, children, and babies.
She deserves a stable, forever home.  We are comp-boarding/fostering her for Sheri's rescue Petraits Pet Photography, so we know first hand how soft those cute ears are.   Go check out her petfinder listing here.  Please forward it to the animal lovers you know.