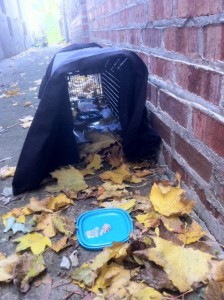 This is a photo of the trap we are using in our humane cat trapping project.  We have the trap on loan from Tree House Humane Society.  Lorenzo and I have been contemplating adding a fourth cat to our animal family for a while now.  Recently we have decided to trap our next pet cat, since there are plenty of abandoned cats roaming around our neighborhood, though some people may not realize it.  I find trapping cats really fun and exciting.  You never know which cat you will get, since in most cases there are many roaming around you haven't seen.  You have to plan and prepare, all things which I love.  It's a combination of a good deed and a fun adventure.  I personally trapped our pet cats Zen and Bambi back in late 2006.  There's more info on those trappings on my site www.MyFeralKitten.com
This photo shows the basics about how we bait our trap, shown with no sheet for illustration purposes.  Right now we are in the "trap rehearsal" phase, where our trap is rigged to stay open no matter what using several zip ties.  It's a tuna buffet essentially that we bait every evening with fresh smelly canned tuna, packed in oil.  Once we are ready for the real trapping night, we will remove the zip ties so that the cat will get safely trapped when he steps on the "put paws here" part, labeled in the photo.  The first night the tuna remained undisturbed.  For night two, last night, I got rid of the old tuna and replaced with new tuna.  Success!!!  By 12:30am just after midnight I noticed that all the tuna had been eaten.  I can check the trap right from our apartment window with a flashlight, the height of convenience!
We will continue to bait the trap every evening, to train our mystery meat eater (hopefully a cat) to return each night.  I have a call into Tree House Humane Society's spay/neuter clinic to make a spay/neuter appointment.  We are hoping for an appointment for next Wed 11/9/11 but we'll see.  We will be trapping our cat the night before the spay/neuter appointment, and will bring him/her to the clinic in the morning still in the trap.  Stay tuned to our blog posts for the next week or two.  I will be updating our readers as things develop!!!  If you want lots more detailed info on trapping, socializing feral kittens, etc. you can check www.MyFeralKitten.com which is very complete, and as I said details some trapping I did in 2006 and 2007.