Many of you know that Lorenzo and I have a home business www.BarneysHomeDogBoarding.com where we board cat-friendly dogs, only one at a time or two if from the same home.  Well this dog Leah in the photos is a much loved repeat "guest dog" of ours.  We have boarded Leah for her mom three times now.  Leah's big-hearted mom needs home boarding for her this summer, and we cannot do it.  The time period needed is early June 2011- early or mid August 2011 and this would be a paid boarding in someone's home. We are already booked for part of the time she needs.  Also since Leah is not cat-friendly and we have cats, it's simpler if we do not board Leah for long periods.  Even though we cannot board Leah for this time, it doesn't mean we can't help find the right person!  Please help us spread the word.  Please forward this blog post link to your animal lover friends, or post/share this on Facebook.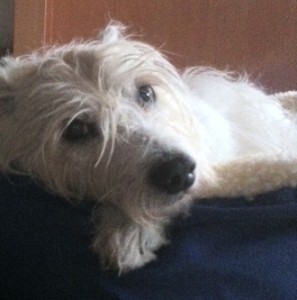 Leah is a great dog and she is easy to love.  She is a ten years old terrier mix that still walks with enthusiasm, follows you around contentedly in the home, and of course naps with enthusiasm.  We first featured her in this blog entry from 3/18/2011. Her mom is a very nice person with a career where she helps others.  Leah was adopted as a senior rescue dog by her compassionate mom.  Her mom has certainly rekindled Leah's love for all adults and for life, but Leah is not good with cats nor children nor many dogs probably because her original owners did not take the time to fully socialize her.  When her mom and Leah first came for their free meet and greet with us, we did have a senior mellow passive beagle around her and they politely lounged in their separate beds and ignored each other.  It's more likely that she will get along with a dog if he/she is very mellow and/or passive, and close to Leah's 30 lbs size or smaller.
As you can see in this photo of Leah receiving a massage from me, Leah adjusts very easily to a new home so she would be a blessing to the right person and home who has the time and love for her this summer.  Leah's mother is willing to pay boarding fees and is looking for a real home where a responsible loving adult is home quite a bit, with absences generally not longer than 4-6 hours at one time.  Generally Leah is in a kennel during the work day and her mom comes home at lunch to give her a walk/yard time.  When Leah boards with us we are always home, and she follows us around and naps peacefully in various locations.  She also favors belly rubs, is great in car rides, loves her walks, and loves rolling around in the grass in our yard.  Leah's mother is willing to drive far if necessary to drop her off with the right person for her home boarding.  The person who boards her needn't be a professional, but needs to be loving and responsible, with a child free, cat free, and probably dog free home.  If you do have an older child who visits occasionally, Leah would be happy in her crate as long as she can see you.
Please help us spread the word to all the animal lovers you know. Leah is a lovable senior rescue dog and her mom is very kind and we want to help them.  If you want more information about Leah please feel free to contact me!  As I said we have boarded her three times so we can answer many of your questions.  Check out our dog boarding website for our contact information www.BarneysHomeDogBoarding.com We will answer any initial questions and then will refer interested people to Leah's mom.