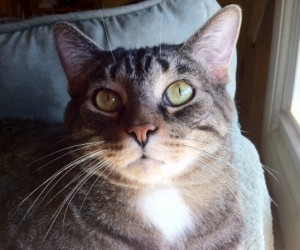 OK here is the biggest deep dark secret of Harry Potter, our foster cat.  The kind of secret that you would only ever learn from a cat that's being fostered in someone's home, with an honest foster mom.  Harry Potter will eat bread, still in the bag, like he's starving and he hasn't eaten in years.  Seriously.
He will scarf down big pieces of many slices so that by the time you find him having his pig out binge-fest you need to throw away a few slices.  He's had a bread binge fest twice in the month or so we've had him.  The first time we were so shocked because we've never seen a cat do that.  The second time we just forgot to put the bread away, so then we decided to keep the loaf we're using in a tupperware and that's been a good solution.
So there you go.  Now you know the worst.  Stay tuned for more juicy tell all about this amazing, loving, mellow, get-along cat who needs to find his forever home.  Oh and here's Harry Potter's writeup and video on petfinder.com.