Back on 3/2/11 I blogged about Teddy who is a maltipoo rescue dog we boarded last year, who helped inspire us to board dogs regularly as a home business with our www.BarneysHomeDogBoarding.com.  Here's the old post from March 2 about how much we love Teddy.
Well after a long hiatus Teddy is back!  Here is Teddy today jumping into my lap.  Today he had a nice car ride with us, a few walks in today's sunshine, and he is about to dine on the raw food that his parents left with us for him to eat.  He also had a good time stirring up the next door neighbor's three chihuahuas by sniffing them through our fence and having a barking party with them.  🙂
Teddy is pretty cat friendly since we were able to give him socialization to cats by boarding him earlier in his puppy life.  Unfortunately one of our cats YoYo runs away scared from him, and he still finds it very fun to chase him.  The other two have a moderate truce with him, and have taught him to be respectful of them.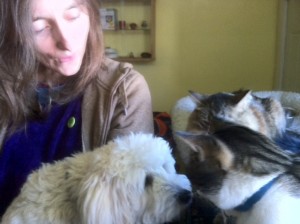 Here I am with Teddy today letting him nose kiss the cats in a safe non-chasing environment.  The cat in the right foreground is YoYo who still runs from him when they are both on the ground.  There has been progress though.  At the end of YoYo's run to higher ground his tail is no longer fluffed.  He doesn't really think Teddy is about to murder him anymore.  In his (fear-distorted) mind Teddy is no longer a huge monster, just a mean doggie.  It's progress!