Lorenzo Ross, at 53 years of age, is realizing some of his lifelong dreams.  Nothing shows that better than his new Awesome 5! webcomic which is based on characters and stories he first created when he was in 5th grade, in Andrew Carnegie Elementary School in the Woodlawn neighborhood of Chicago's south side.  Lorenzo recalls the student cliques in his 5th grade class as the comic book geeks, the sports kids, the bad kids who were bullies, and the girls who were above it all.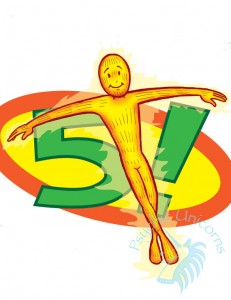 This was 1968, which comic book lovers now know as near the end of the "Silver Age," a very creative and prolific period for comic books, also called graphic novels.  Lorenzo and about a dozen 5th graders were comic book geeks, happily saving up their change to buy and share comic books published by Marvel Comics and DC Comics.  Lorenzo and two other 5th graders were inspired to draw their own original comic book characters, inspired by cartoons such as Teen Titans, Fantastic Four, and The Avengers, and also the children's marionette TV series Stingray.
Lorenzo recalls that he was the most devoted to drawing comic book characters & creating their stories, in large part because he was not allowed to do after school activities like baseball or going to friends' houses.  He used drawing as an "escape" when he had to come straight home every day after school, and stay in on the weekends.
Originally The Awesome 5! was called The Olympic 5 back in the day, since Lorenzo and his 5th grade friends didn't know that the word "Olympic" has trademark protection.  They created their comic books on sheets of typing paper folded in half, drawn by hand and only existing as one original.  This was before copy machines, and they got the typing paper from school.  Lorenzo recalls "as soon as we dropped the pencil we started passing it around" to show the other comic book fan 5th graders.  It's a good thing they did, because Lorenzo's mother and grandmother regularly threw out his drawings at home every time they cleaned up the dining room.  Lorenzo did not have his own room, and slept on the dining room couch.  He eventually got his own desk in the dining room but it had no drawers, only shelves, so that he had no way of keeping his drawings safe from being tossed.  "Stuff a kid was drawing" was not valued by the his mother or grandmother, as it was not seen as a viable job for an adult to earn a living, but rather clutter or mess in the home.
Shown in images here above are Lorenzo's The Flamester and Marine Lad, comic characters who are now finally drawn in full color for the first time since he drew them with no. 2 pencils in 1968.   Perhaps you'd like to see more of The Flamester, an artificial human or android created in the 50's who is a boy forever who can burst into flames at will and also fly?  Perhaps you are curious about Marine Lad, who was originally named Whirlpool Boy in 1968, has super strength and can swim and fly?  They are part of a team of five teenaged superheroes now called The Awesome 5! This webcomic retains much of the innocence of Lorenzo's elementary school imagination, and also brings forth an adult humor spoofing superhero comics.  While colorful and entertaining, this webcomic by Lorenzo Ross proves that though some times it can take over 40 years, dreams can come true.  You can read Lorenzo's first The Awesome 5! webcomic and other webcomics on his website www.AlternativeCityComics.com.  The Flamester print as well as the Marine Lad print are available for purchase on our PsychicUnicorns etsy shop.