This week I made a brief but wonderful visit to the Lincoln Park Conservatory.  The minute I walked in there I felt great.  It's more humid for the benefit of the plants, and it's so gorgeous.  Chicago has two indoor nature conservatories, open all year: the Lincoln Park Conservatory, and the Garfield Park Conservatory.  The Garfield Park one always has a great free parking lot.  The Lincoln Park Conservatory is next to the zoo and it's harder to find free parking, particularly on school holidays like summer.  Both conservatories have different rooms including very old palm trees, lots of ferns, and various types of flowers.  This first photo is from the Lincoln Park Conservatory's show room, which is filled with lots of wonderful flowers they rotate out for different temporary shows.  I also love that tall green bushy fern plant in the background, which is there year round.  I believe it's some type of Chinese fern, though I couldn't find the sign this time.
Here is a large, interesting fountain currently in the show room.  It is labeled as an Asaki fountain, on loan from Gethsemane Garden Center in Chicago.  I called Gethsemane and you can have your very own for only $795!  I am big on fountains, and I love how the water just runs down the side of this fountain that is probably almost four feet high.  Very neat.
Both conservatories are priceless ways to temporarily escape Chicago's winter, but there is so much earth energy in these places they can be healing and transformative year round.
My visit here motivated me to once again think about how serene and earthy my home is.  I do have plants and fountains, but this place reminded me I can always do more to make my indoor environment more like one of the conservatories.  After all, I need that kind of healing every day!  🙂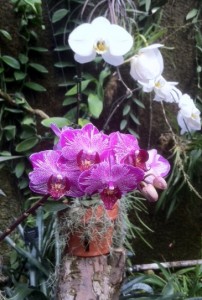 This photo shows some orchids from The Orchid Room at the Lincoln Park Conservatory.  This is a great way to get a healing dose of orchid beauty, without waiting a year for your own to bloom again!  I sat on a bench in the Fern Room to meditate a little.  It's so nice to soak up healing energy from so much well-tended nature.  Just thinking about my visit makes me more relaxed!
These conservatories are open 7 days a week, year round, with the exception of a few days.  Both are free and need volunteers and have interesting events as well.  If you are looking for places to tend your inner serenity, you could put these places on your list!  Here's where you could read more about the 116 year old Lincoln Park Conservatory including the (only) four days this year they are closed.  Here's more info on the Garfield Park Conservatory including their own website.  They have a beer related event this 5/19 and regular events year round.  Personally I like going when the least amount of people would be there, but that's just me.  🙂